We're home!! We took the red eye out of Maui on Thursday night and it's been a whirlwind since we landed at 6:45am on Friday. But it's been a whirlwind of fun so I can't complain:) We shot a beautiful wedding on Saturday, celebrated 4th of July with my family on Sun, worked all day Monday... why am I listing what I've done for the past 5 days? Let's get back to what matters... HAWAII. This was my third time visiting and it was just exciting as the first time. I stepped off the plane and felt home. I greeted Hawaii with a humid hug and it was love. I spent 9 days bathing in her beauty and drinking in her Aloha Spirit. There is way too much to cover in one post so I shall divide our love affair in to sections and tell of our romance as it should be told.
Let's start with the intoxicating, hypnotizing, mesmerizing... food.
Maybe you don't like food *cough* crazy *cough*, maybe you're in a hurry, maybe I'm boring... but just in case you don't finish reading this post I will put the most important thing first. Because, really, nothing else on this blog matters. It's all about
Matsumoto's Shave Ice
. What's that? It's frozen water and flavored sugar water you say? Well let me tell you that I felt the same way... until I had it. If you ever go to Oahu's North Shore and miss this you missed out.
You stand in line (do not be intimidated by the line and go next door you will regret it), you order (I suggest "the hawaiian": pineapple, coconut, banana), you ask for ice cream on the bottom (do it, DO IT!).
You get this:
You enjoy and contemplate moving to the islands just so you can be closer to this little beauty...
Then, THEN, ohhhhhhhh
then
you hit this. The most delicious ice cream. As the cream starts to mix with the ice magic happens and you slip away. It's magic.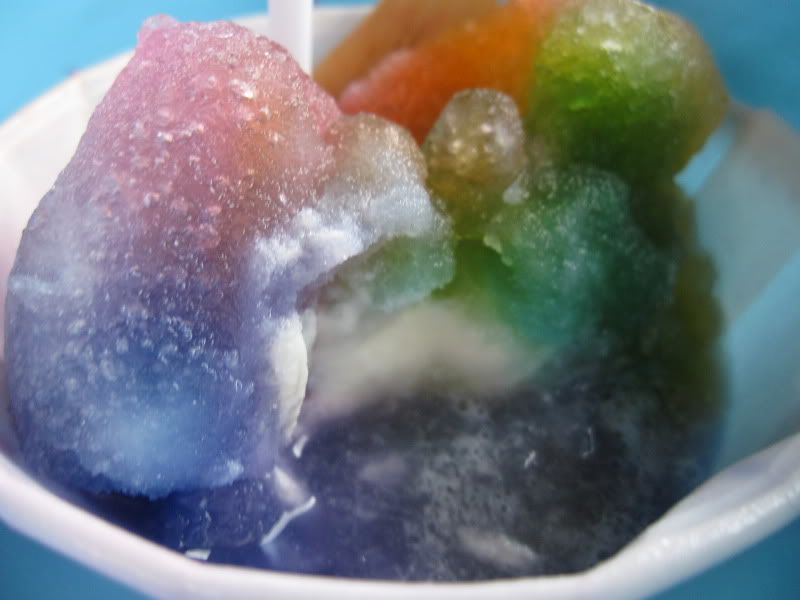 Ok give me a second to pull myself together.
Nothing else in this post will live up to that but these next ones are definitely worth noting!
Ted's Bakery:
Chocolate Haupia (coconut) Pie. Droooool! They had really good breakfast sandwiches too!
Giovanni's:
Most people may be a little hesitant about pulling over on the side of the road, walking up to a truck, and ordering seafood out of it. Don't hesitate! Pull over and do it! I think I'm still trying to get the garlic smell off of me, it was that good.
I've missed this since being home.
Hula Pie @ Duke's
: Oreo cookie crust, macadamia nut ice cream, thick layer of fudge, drizzled with hot fudge and macademia nuts. Need I say more?
And last but nearly not least..
Kalua Pork.
This could be the main staple in my diet and you would get no complaints from me. What I wouldn't do to have it's delicious pork juices dripping down my chin right now.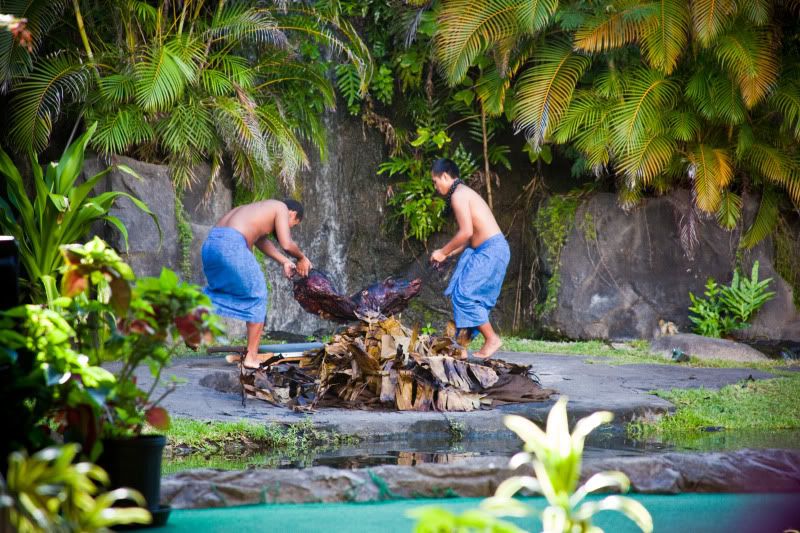 Wow, this post really made me sound gluttonous. I promise I won't even mention food in the rest of my Hawaii posts... pinky promise, maybe, well I'll try, who am I kidding?