Ahhhhhh Deutschland! Deutsch must stand for beautiful. Beautiful Land. We loved Germany. We spent most of our time in Bavaria and it was perfect. This is going to be one long post about Germany. Wifi has been sparse so far in Greece and I want to catch up while I have it so I do't fall behind:)
We took an overnight train from Paris to Frankfurt and other than waking up with "train legs" (like sea legs) it was one of the best night's sleep so far. We planned to road trip our way through Bavaria so we rented a car. It was significantly cheaper to rent a manual so that's what we did. Brett learned and practiced (ahem.. twice) at home and we figured it would be fine. We picked up our car and spent about 10 minutes in the parking garage trying to pull out of our spot. Apparently it's very difficult to go from park to THIRD with your emergency break on. Finally we figured it out and were on our way. First step of the directions... get on the
Autobahn
. Joy. If you don't know what the Autobahn is it is the freeway system in Germany. Notorious for no speed limits. Anyway, we got on the Autobahn. Brett became very focused and serious on driving and I also became very focused and serious... on praying. Good Lord get me out of this car!! I seriously reconsidered the value of a bargain and whether it was worth it to save money when it involves being trapped in a fast moving, inexperienced driven, metal death cage. I prayed again. Then I decided I was going to commit to being positive and encouraging and not let my fear turn me in to a screaming, yelling, nagging, negative, discouraging, hyper-ventilating wife. Even when Brett was going 92 mph. Germany... where I learned a big lesson in self-control.
The death trap.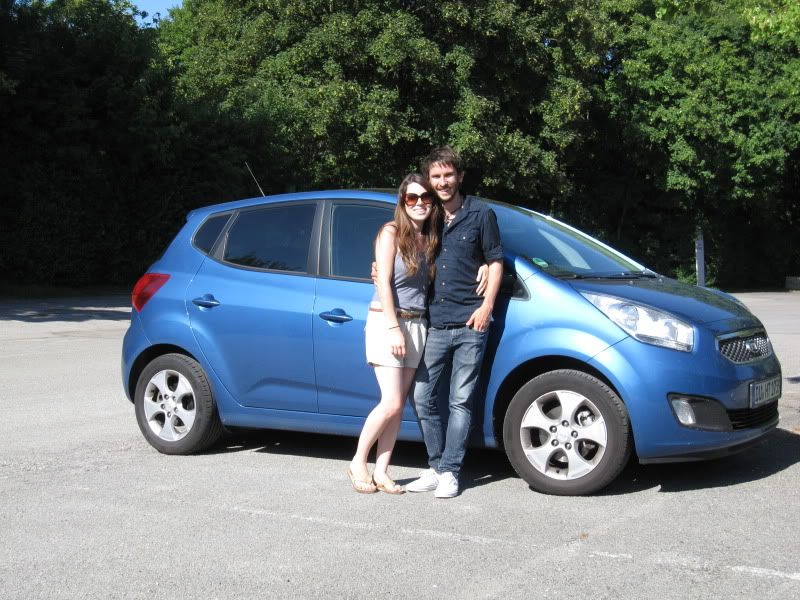 Our first day we spent road tripping through Bavaria on a little stretch called the
Romantic Road
. It's a convenient little road that takes you through all of the old Bavarian villages that weren't destroyed in world war II. If you think of Germany and you think pretzels, lederhosen, Pinnocchio looking houses, wind mills, and giant beers then you're thinking of Bavaria. That all came from Bavaria and is not what other parts of Germany are like at all. We stopped at a few villages and absorbed all of the cuteness. Our favorite village was called
Rothenburg
.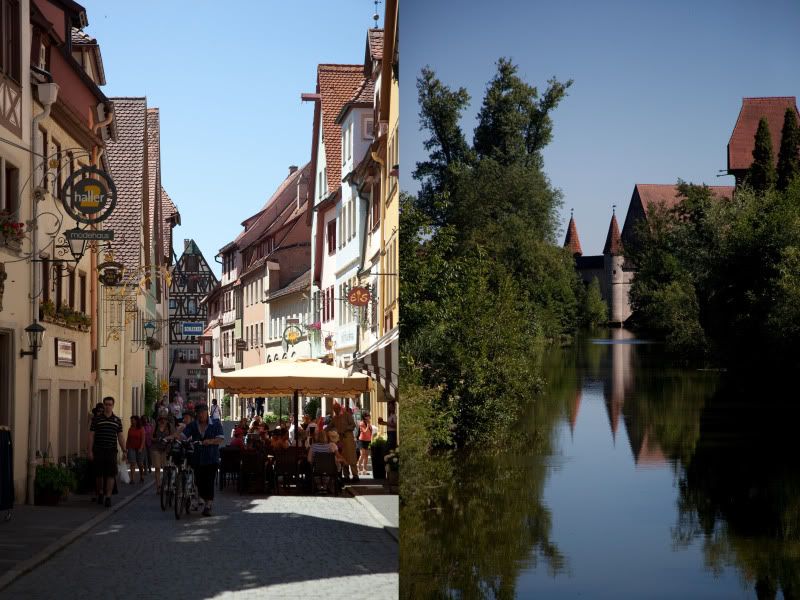 Schnee Ball
!!!!! Supposedly a Rothenburg original this little ball is amazing! Crunchy, flaky, sweet, yum!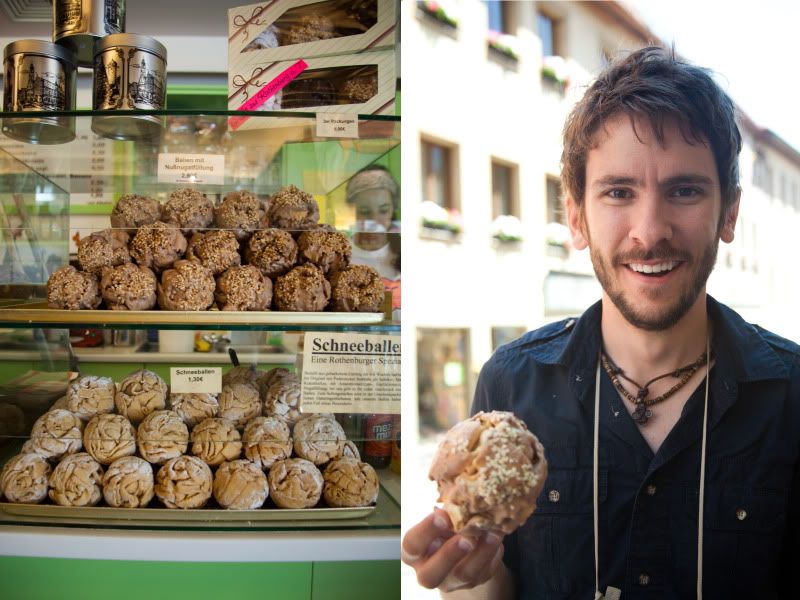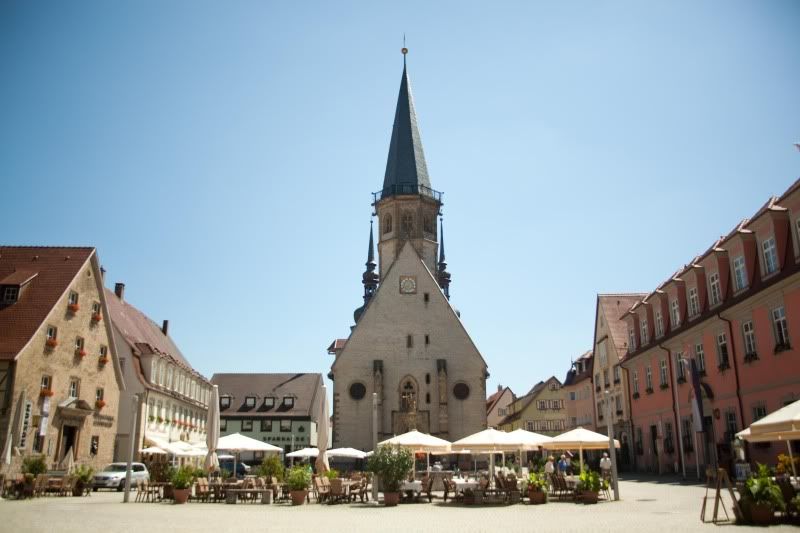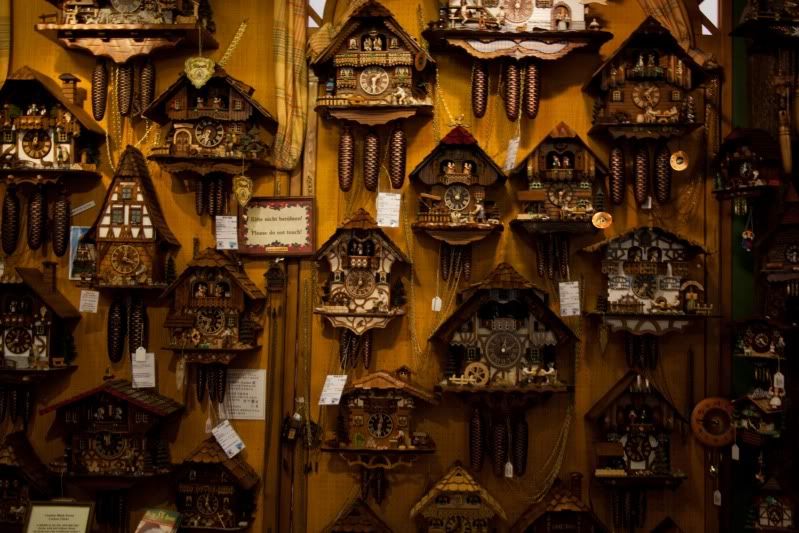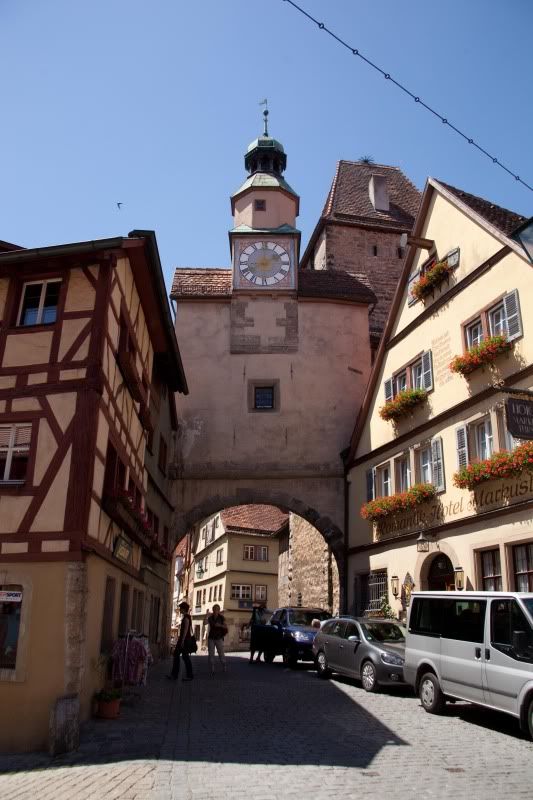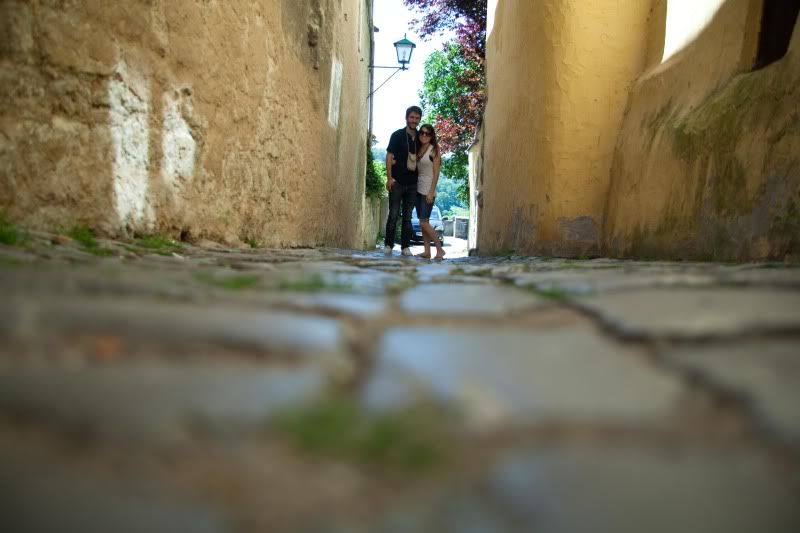 When planning Germany Brett and I kept talking about how wonderful it would be to see Germany during Christmas time. Apparently it is so wonderful that they have year round Christmas emporiums devoted to the season. They were the best!! Christmas in June, I love it. We totally got a German ornament.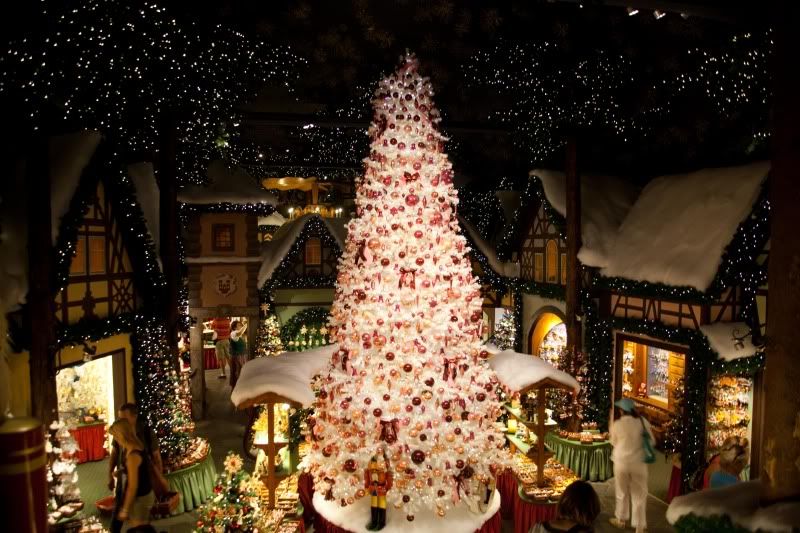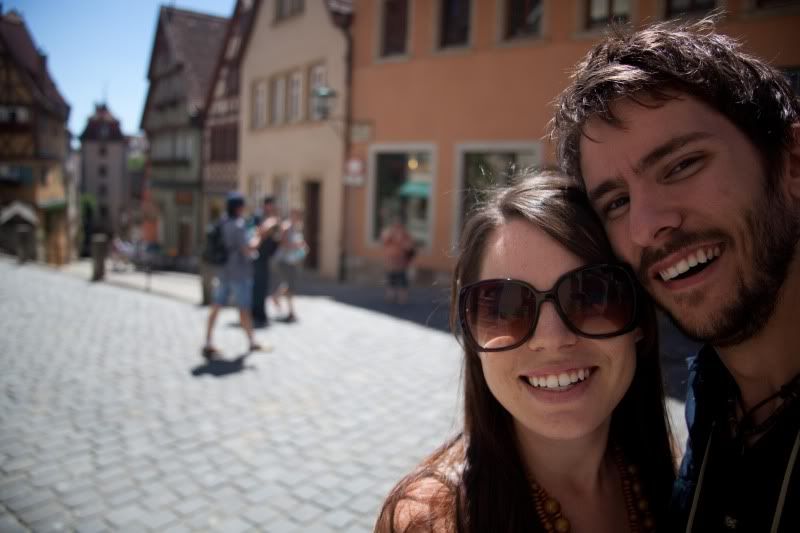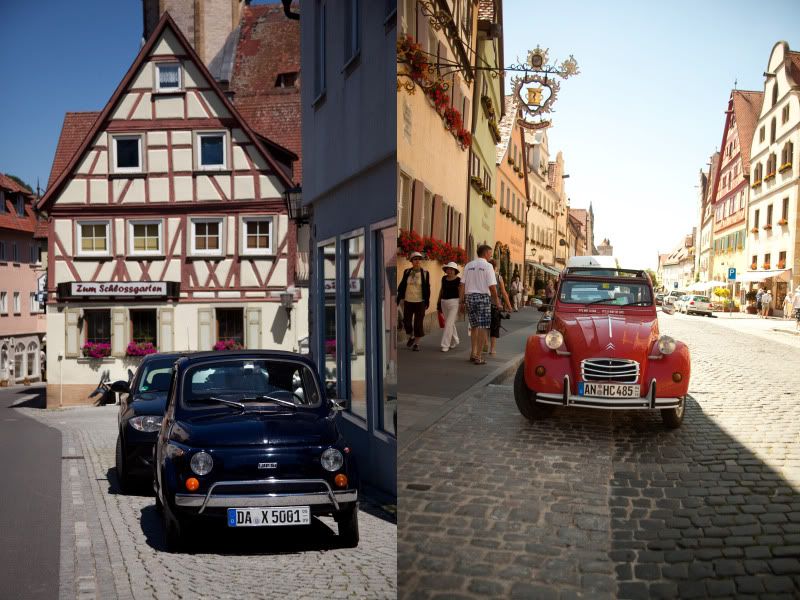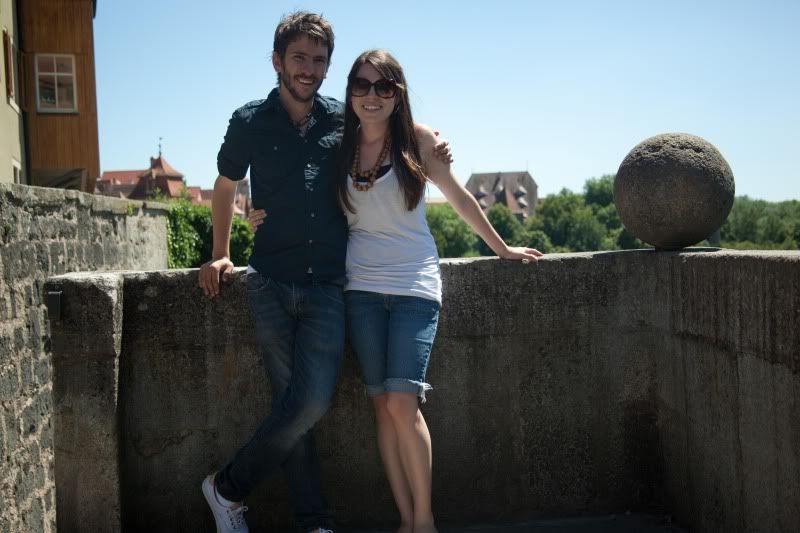 All of the village churches were open to letting people walk through them. What a crazy experience. Church was so different back then. The pulpit was usually above the congregation somewhere in the middle-side of the pews. A few of the churches even buried some of their dead inside the church, under the floor, next to the pews!
This darling, quaint, super old village church... was straight up CREEPY! We couldn't read the German telling us who this extra special guy was but we're guessing some sort of priest. He's so special in fact that they buried his body in a glass case. Yup, right next to the pews. The poor children in that church. Sunday morning a time for worship, fellowship, and watching our beloved priest decay. Gross.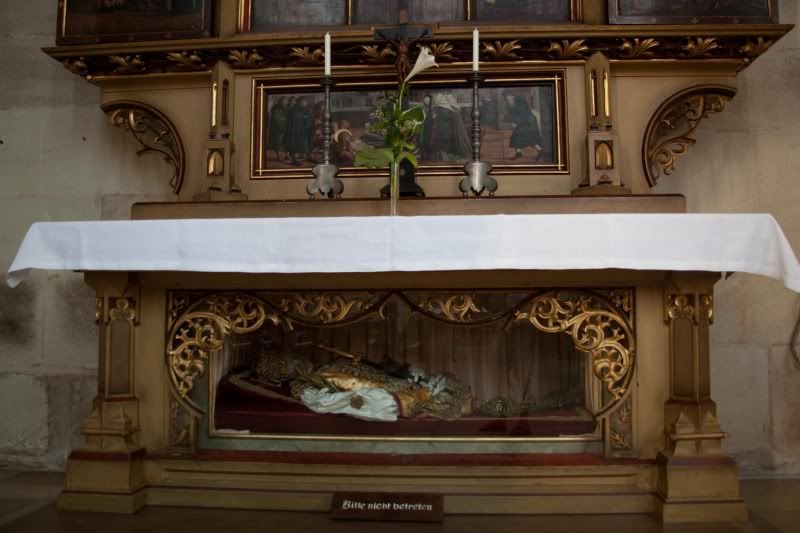 We finished the Romantic Road in a place called Fussen. Where we stayed in a hostel much nicer than the last. We got there late in the afternoon so we went to dinner, came back, and went to bed. I have had a few authentic German plates in the past and wanted to try a home favorite in it's home land. We found a cute and fair priced little restaurant. Traveling tip: Sometimes when the prices get lower it may mean you are eating where the locals eat. This is both awesome and intimidating because they expect you to know what you want and don't have any interest in trying to explain things to you in English. I ordered
sauerbraten
and
spatzle
and was happy to find out it tasted exactly like home!! Way to go mom! 2nd travelers tip: don't order "water". In Europe if you order "water" and don't specify "tap water" they will bring you a tiny glass bottle of extra fancy extra expensive mineral water. It's the biggest tourist trap around. I got so caught up in ordering my meal properly that I completely forgot and fell in to the trap:( Here's my very extra special, I swear they just filled the bottle with tap water, extra fancy water.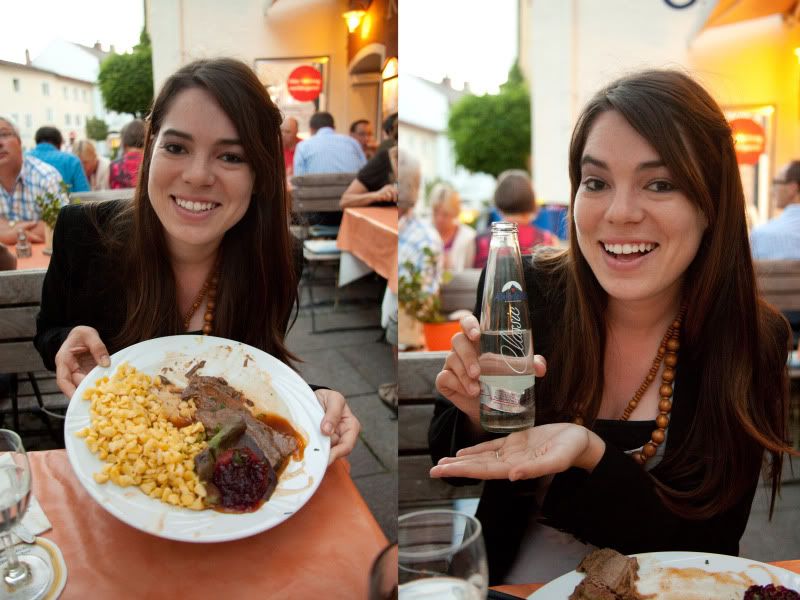 Our hostel... the itchy one.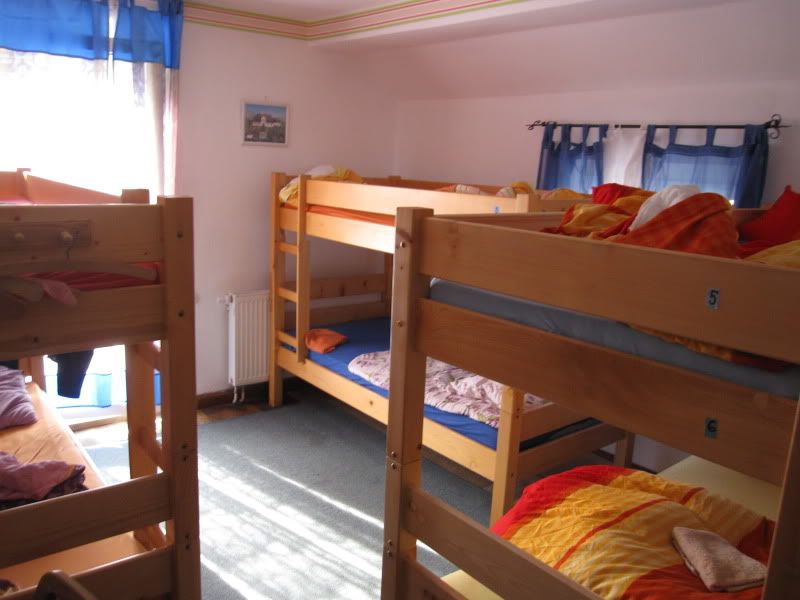 Our second day we went up the road to the
Neuschwanstein Castle
. This is the castle that Walt Disney used as inspiration for his park castles. It was the castle of "mad" King Ludwig II and was only occupied by him for a few months before he died. It was then turned in to a museum a week later. He was known for being crazy. Attentive to every detail, a lavish dreamer, and spending every last dime of his family's fortune to build his dream house. Shortly after moving in to the castle a doctor came and diagnosed him as mentally unhealthy ("mad"). A few days later both "mad" King Ludwig and the doctor were found dead in the shallow waters of a small lake nearby. No one knows what happened but there is a lot of speculation. So interesting!!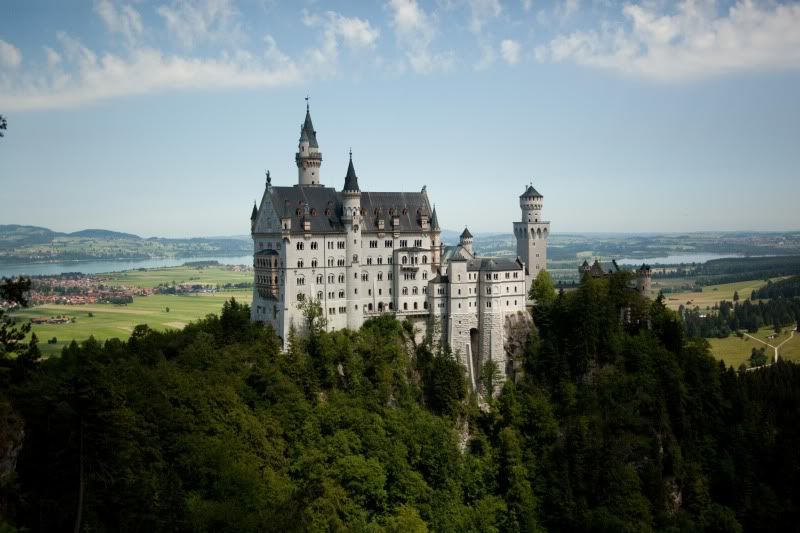 This is the view from one of the castle windows. The little town off to the right in the back is Fussen, where we stayed. The mountains in the background are the Swiss Alps! Talk about a view. I'd want this bedroom window.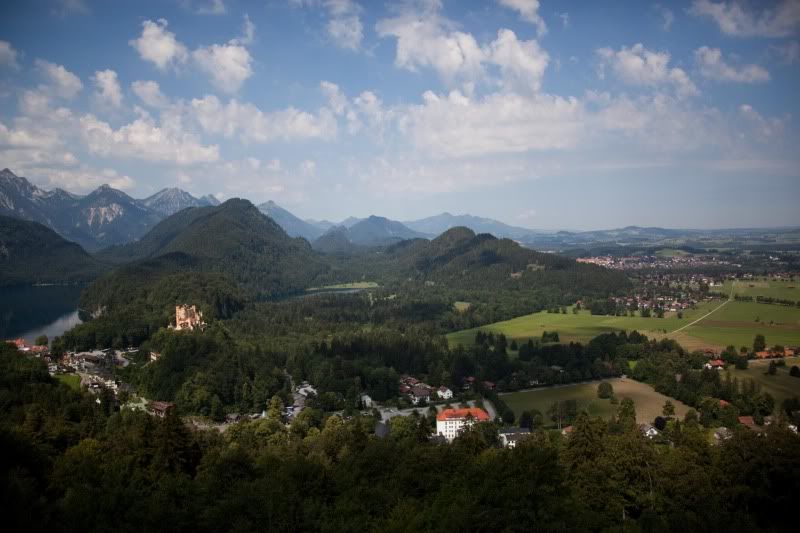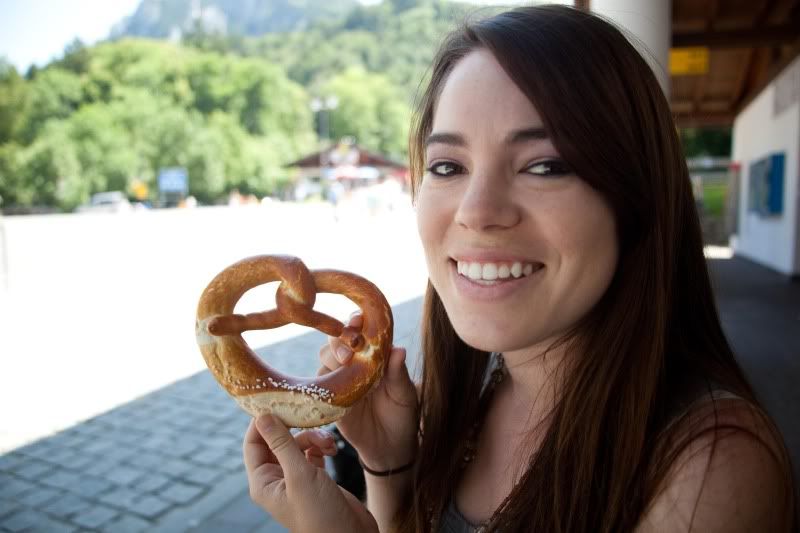 Ausfahrt and Einfahrt mean exit and entrance. On the freeway the Ausfahrt signs are GIANT.
We took this picture because we are extremely immature and laughed at these signs every time we passed them! We think farts... err fahrts are funny!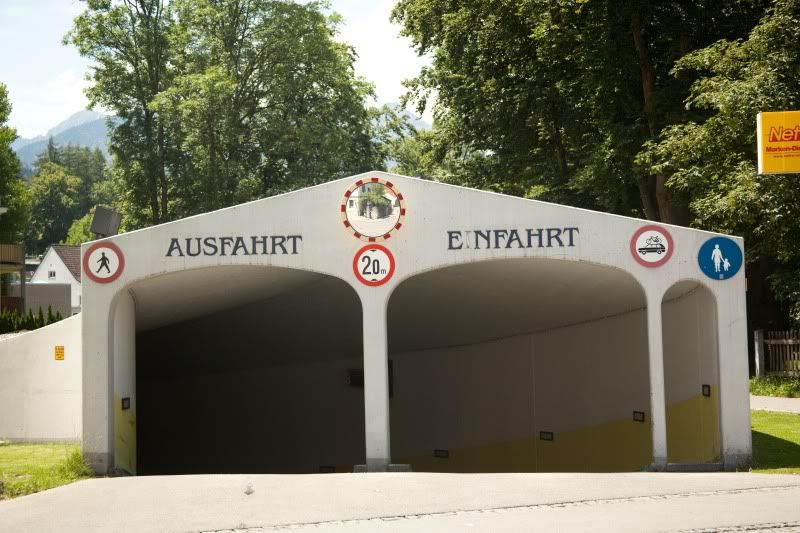 After leaving Fussen we drove to Munich (avoiding every hill and possibility of rolling in to other cars that we could along the way). Once in Munich we headed to the
Dachau concentration camp
. We drove silently there. Half because Brett was focusing on driving and I was focusing on not screaming when we almost rolled in to cars and half because I was mentally prepping myself for what I was about to see.
We walked up and were greeted by the gate. Dachau was the first concentration camp in Germany and for awhile was the largest. It was known for it's cruelty and would cause both Jewish people and non Jewish people to shudder at the even mention of it's name.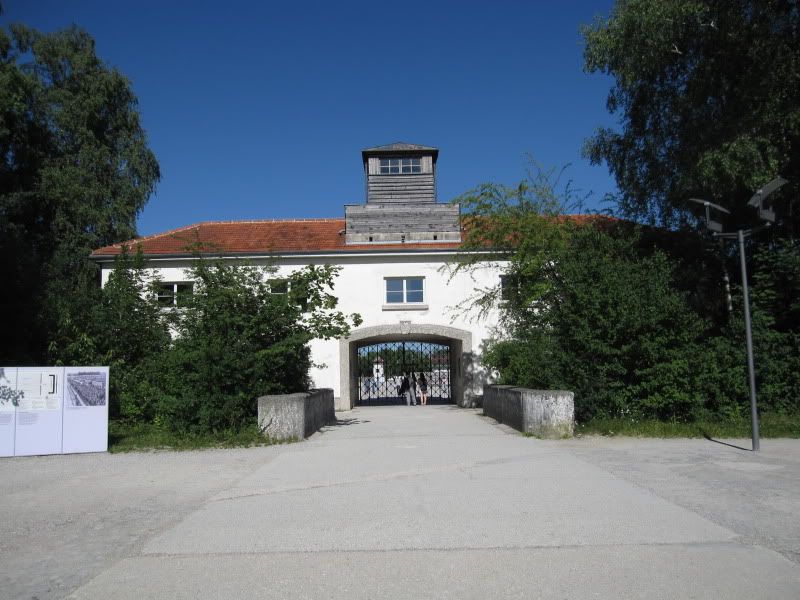 The little sign on the left told us that prisoners were brought in on the train, lined up on the brick road, and marched inside the camp where the disinfection and checking in processes began. In this picture you can still see remnants of the train track, the train platform, and the same brick road.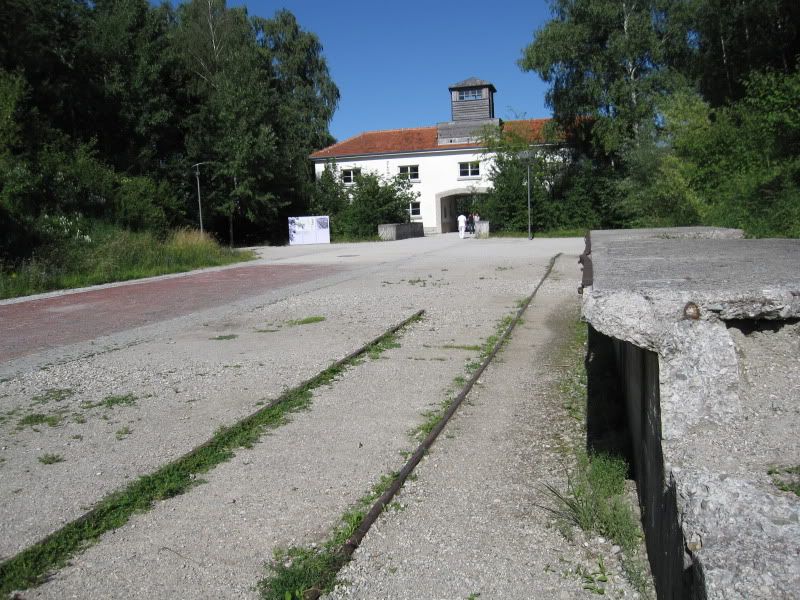 Every concentration camp had this above it's gate. It says "work sets you free". I imagined what it must have felt like the moment you stepped off the train and your feet hit the brick pavement. Who and what your thoughts must be on as you walked through the metal gate knowing that you may not and most likely will not ever walk back through again.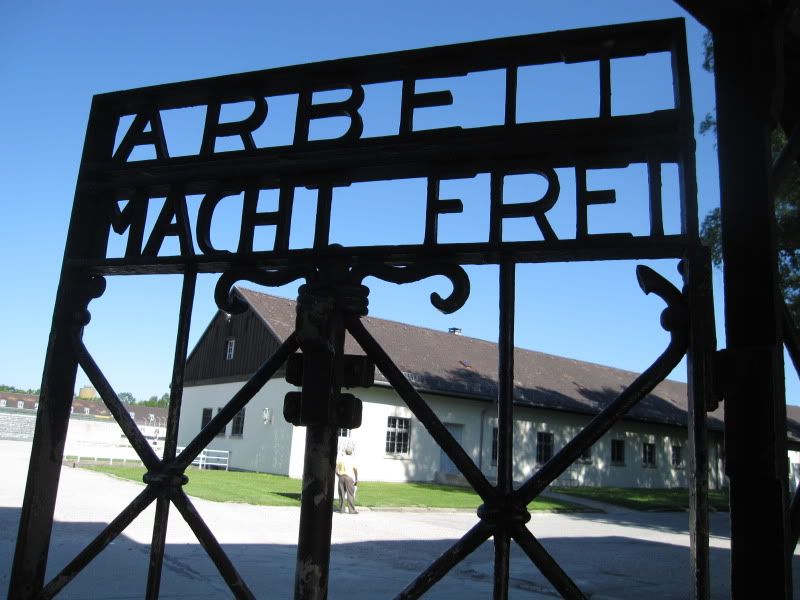 We walked through everything. The check in center, we looked at desks that were used to hold prisoners files, we looked at personal items that were confiscated from prisoners, we saw the propaganda that portrayed concentration camps to the rest of the world as safe and human work camps, we saw where the prisoners were disinfected and the bolts in the wall that held the hooks where they were hung to dry, we walked through the gas chambers, the bullet holed walls that prisoners were lined up against and shot and the blood trenches that were dug to carry all of the blood from the shootings, the "showers" where prisoners were doused in acid then carried to the incinerators in the next room. It wasn't cutesy and it wasn't fluffed up. It was raw and sobering. It was more real than any book, speaker, or history lesson could've ever made it for me. I felt like I understood these prisoners, these people that were not very different than me and who lived not too long before me more than I ever had. I walked through the camp fighting tears and swallowing hard the growing lump in my throat. Everyone needs to see places like these. To see the possibilities of our human flesh when we lose compassion, justice, and love. To see just how important it is to love our neighbors and raise our kids to do the same. Dachau was a life changing experience for me and it alone was worth a whole trip to Germany.
I was too captivated to take many pictures but I knew my little sister, who has a huge heart for this period of history, would want to see so I snapped a few.
These are the gas chambers. The soldiers denied ever using them to kill anyone. They were supposedly only used for the disinfection of clothing but the prisoners testified to different uses.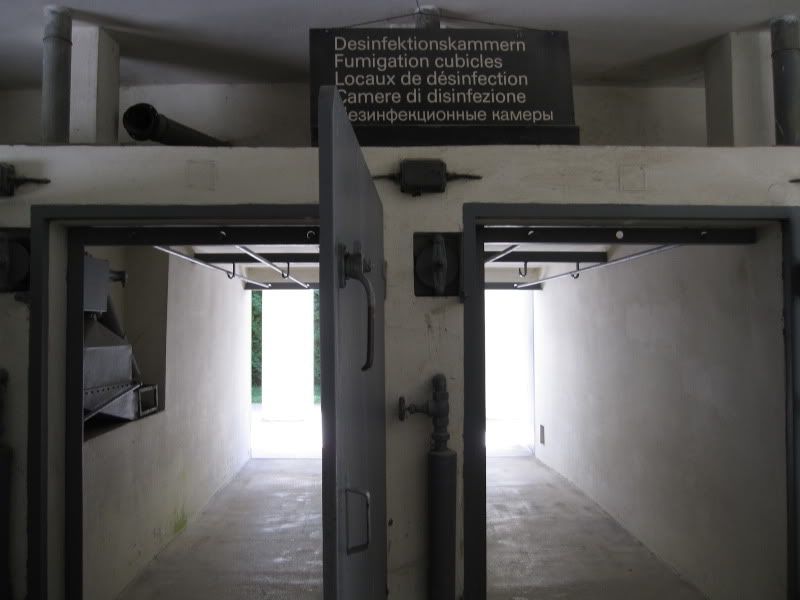 These are the "showers". Large groups of prisoners were brought in to a locked room next door so that they couldn't run away. Once in the room the doors to the showers were opened and the prisoners were forced inside. Again, I couldn't help but imagine myself in there and what that experience must have been like.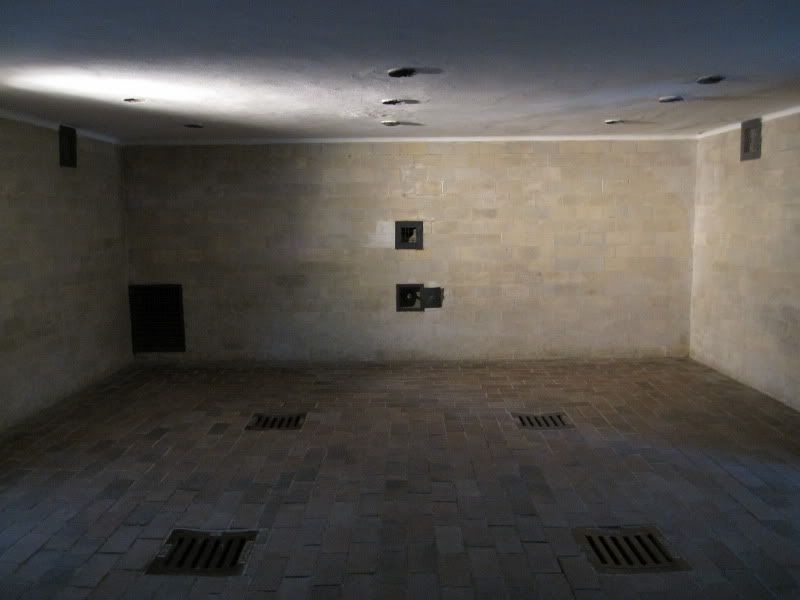 The very next room was the incinerator. How convenient. This building was a killing machine. A few bodies could fit in each one at one time making mass murdering quick and easy.