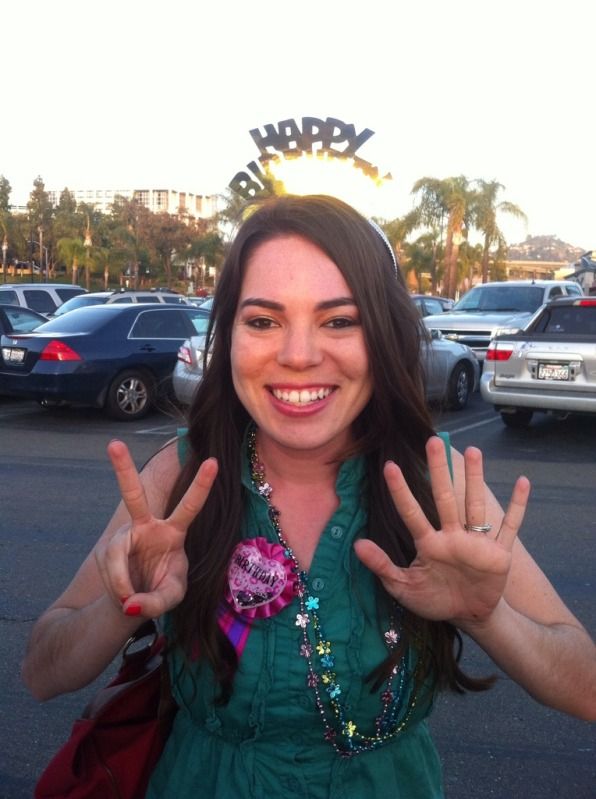 Birthday week is over. I am now 25! Brett planned a few sweet surprise dates last week. On Wednesday we grabbed dinner and then headed to
Cinepolis
. Cinepolis is an awesome
luxury theater
. You get your own leather recliner and a waiter at the push of a button that will bring you all kinds of yummy things. On Thursday we went to Benihana for dinner and stuffed ourselves silly. If you don't already know, sign up for Benihana's E-Club. You get free dinner for your birthday! We spent a lot of time getting free birthday food last week. I didn't cook once!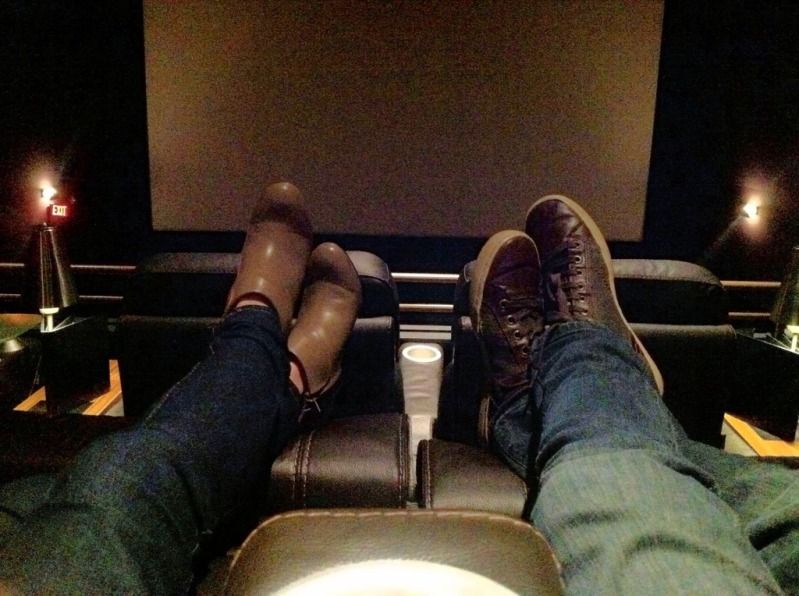 Mmm! Green tea ice cream!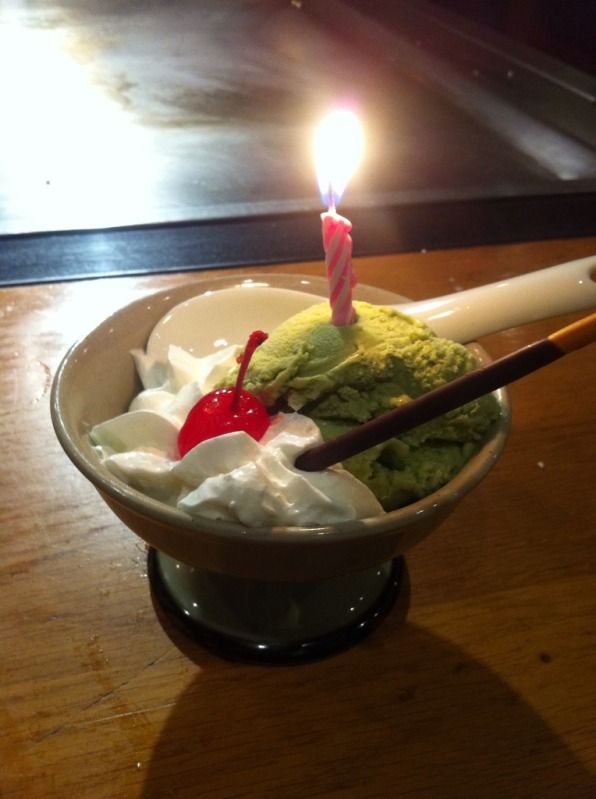 Saturday was my birthday. We woke up early and Brett said I needed to get dressed because we were leaving shortly. We got in the car where I was promptly blind folded. After parking, Brett said I could take off my blind fold. We were by the water and we were going whale watching! I squealed! I've been talking about wanting to go whale watching for years. We spent three hours seeing all kinds of whales and dolphins! I could not believe how many whales there are right off of our shores.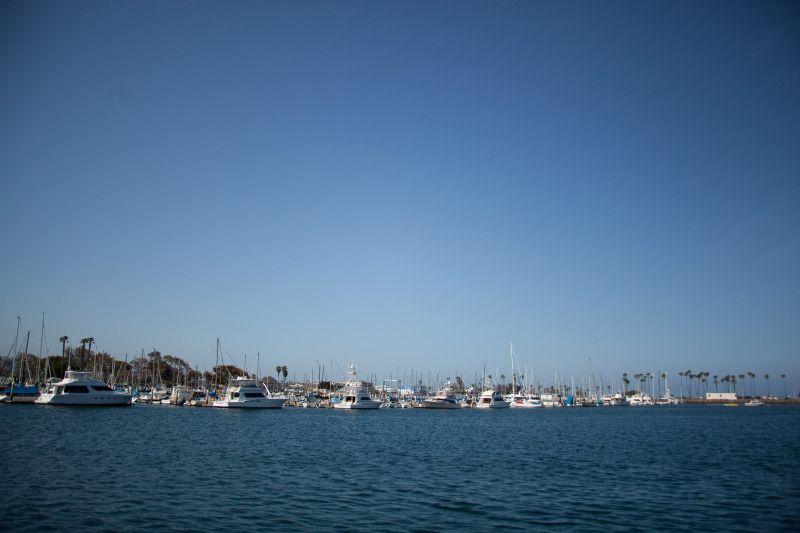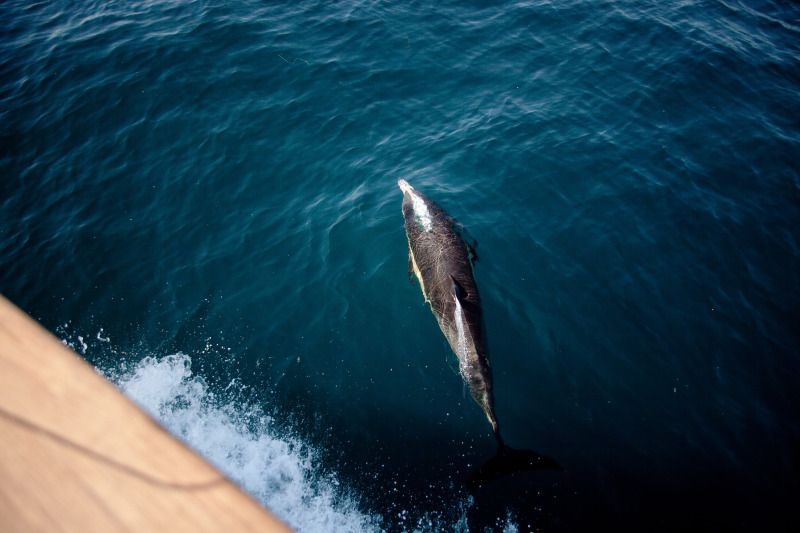 Poor B feeling a little sea sick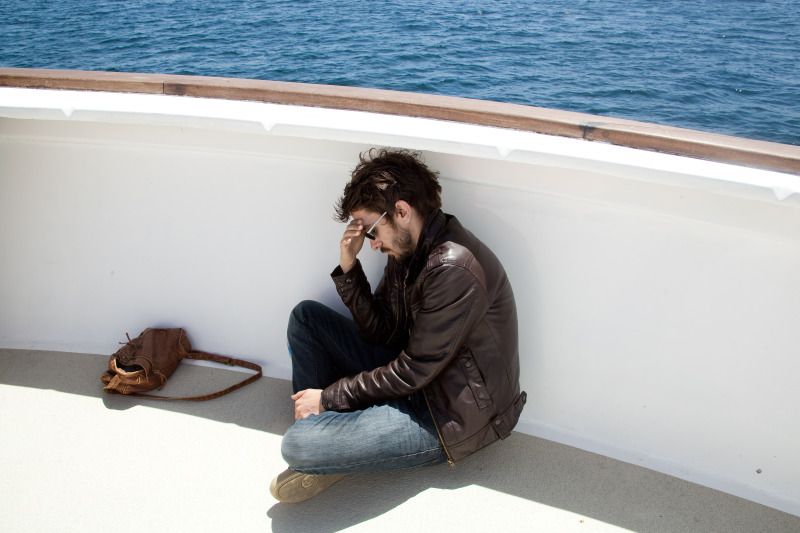 A momma and baby whale! You can see the momma's back on the left and the baby's spout on the right:)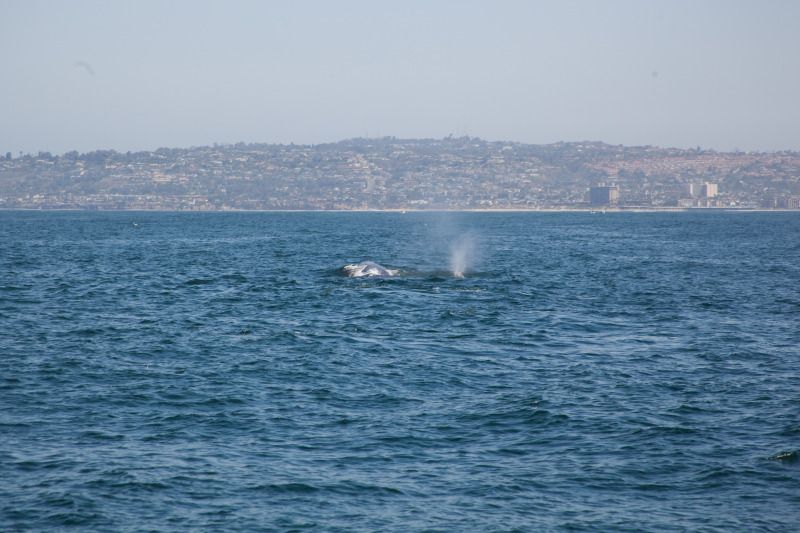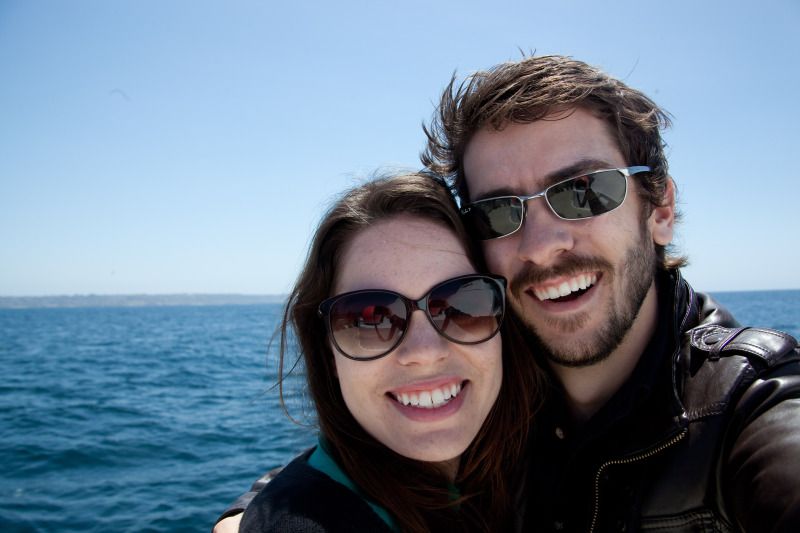 After whale watching we headed home and I assumed we were done for the day (considering all of the date nights in the week prior and the perfect morning we had just had). As soon as we got upstairs B told me to fix my crazy wind blown hair because we were leaving AGAIN! We got in the car and I was blind folded. After a little drive we parked and he told me to keep the blind fold on. He led me and we walked. After stopping he told me to take off my blind fold and I was circled by family and friends yelling surprise! He and my parents had planned me a surprise party and I didn't have a clue!
The party was perfect in every way. The menu was themed around kid foods with a gourmet twist! Fancy macaroni and cheese and sliders with all kinds of yummy fancy toppings. My kind of food! I even received the most thoughtful gifts. The icing on the cake (punny) was when B announced that we all needed to come inside because he had a surprise for me. Another surprise?!
We all squeezed in to the living room and Brett clicked play. This was my surprise...
My 25th Birthday Gift From B
from
Heather Pepin
on
Vimeo
.
How sweet is that video?! He put so much time and thought in to organizing and making it and so did all of the people involved. Best video ever!
I think my 25th birthday may be my most favorite birthday yet. I've celebrated 8 birthdays with Brett so I'm no stranger to incredible thoughtfulness and grand celebrations (that's how he does things) but this birthday felt extra special. I felt so unbelievably loved by those in my life! I'm starting this new year of my life very very thankful. I have an incredibly sweet and thoughtful husband who loves me extravagantly. I have a supportive, fun, and loving family. My friends are out of this world amazing. I am blessed beyond belief. My life is so rich and full and I feel all warm and tingly knowing that all of this is a gift from my God because He loves me. Then I am reminded that all of this amazing love I'm feeling is just a small little taste of how much HE loves me, and knows me, and thinks about me, and plans for me. It's a wonderful thing to be loved.
I'm now 25 and I'm totally loving life. Cheers.